Pediatric Dentistry
Why Visit a Pediatric Dentist?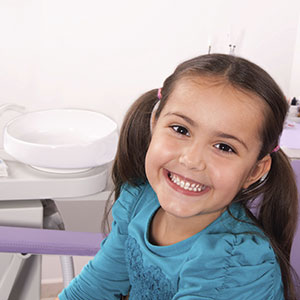 A pediatric dentist is a specialist whose entire focus is on the specific dental and emotional needs of children. The training that this specialist receives allows him to attend to the specific needs of your child. Each visit focuses on your child: relating to him/her, teaching about and fostering good dental health practices, and promoting healthy and positive attitudes towards future visits.
What specifically is the difference between a Pediatric Dentist and a General Dentist?
Pediatric dentists have two to three years specialized training beyond dental school, allowing them to focus exclusively on the oral health of infancy through the teenage years. That is almost 2,000 hours of individualized training which includes pediatrics medicine, child growth and development, oral and general anesthesia, pediatric pharmacology, and child psychology.
Dr. Dave is specialty trained to care for the oral health and dental development of infants, children, adolescents and special needs patients. Much like what a pediatrician is to medicine, a pediatric dentist is in tune with the various stages of a child's oral and psychological development allowing them to better meet the needs of your child.
Our Westminster practice is dedicated to the long-term oral health of your child. We achieve this through active patient participation in dental visits and fostering an environment that encourages the pursuit of good oral health habits and the care of their teeth. This is accomplished through education and age appropriate techniques. We coach parents and caregivers on how to encourage your child to care for his/her teeth successfully. We gently treat dental concerns that occur and prevent new ones from happening. Our process creates a partnership focused on prevention and dedicated to your child's health.
A pediatric dentist is specialty trained to manage and treat pediatric dental emergencies. If your child is a patient of record, he/she will have the benefit of increased access to after hours care or immediate appointment if an emergency were to arise.
Our office is designed with children of all ages in mind. The decor creates a welcoming, fun, and positive atmosphere. Similar to a pediatrician's office, we use benches for exams and cleanings to reduce anxiety. Child friendly movies help hold children's attention in the waiting and treatment areas. We encourage parents to accompany your child in the back until the child feels like they wish to proceed on their own. Frequently, games and prizes are incentives offered to ensure a positive, fun visit.