Meet our Team
David D. Schleicher, D.D.S.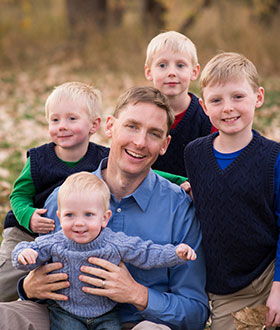 Dr. David Schleicher was raised in Lakewood, Colorado where he attended a Lutheran parochial school followed by Green Mountain High School. He completed two Bachelor of Arts degrees in Biology and Kinesiology at the University of Northern Colorado in Greeley. During college he also completed his EMT training in Ft. Collins. He graduated from the University of Colorado Denver School of Dental Medicine in 2003. Upon graduation, he provided care at a public health clinic in Pueblo, Colorado for two years. After a dental mission trip to Romania, to treat medically compromised and handicapped children, Dr. Schleicher practiced for two years treating children alongside two pediatric dentists.
Dr. Schleicher completed his pediatric dental residency at the University of Maryland Medical System where he received training at the University of Maryland Dental School, University Hospital, Kernan Orthopedics and Rehabilitative Hospital, and Johns Hopkins Hospital. There he received the latest and most modern training in pediatric dentistry including oral sedation, orofacial trauma management, and hospital dentistry for children.
Dr. Dave is a member of the American Academy of Pediatric Dentists, American Dental Association, Colorado Dental Association, and Metropolitan Denver Dental Society.
Dr. Dave loves the outdoors. As a sportsman, he is proud to spend his free time with his lovely wife, Meggin, and four wonderful boys, Samuel, Matthew, Jacob, and Isaac. Together, they explore anything and everything in the Colorado outdoors.
Meggin Schleicher - Office Manager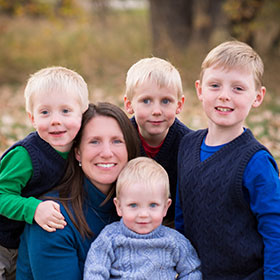 Meggin received her teaching degree at the University of Northern Colorado in 1998 with the honor of summa cum laude. She took great joy in teaching 2nd and 3rd grades for nine years. During that time, she earned a Master's degree in reading instruction from the University of Colorado. Her instructional skill in tutoring the most reading-challenged pupils earned recognition from several of her peers and teachers.
During a mission trip to Romania with Dr. Dave, Meggin expanded her desire to help children beyond a classroom setting. This passion for working with children has translated into an integral position at Cornerstone, wherein she helps Dr. Dave manage almost all aspects of the practice.
The Cornerstone Pediatric Dentistry staff is committed to providing the best care with phenomenal customer service. We have over 25 years of combined experience in creating positive, child-centered experiences. Our staff is excited to meet you and your children and we look forward to treating you like family